BIG Entertainment Photo Magic Deluxe
---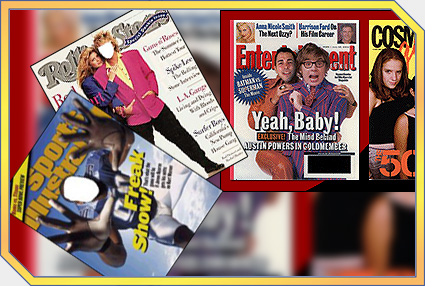 The photo phenomena that started it all… Electronically superimposed photo sessions; that place participants into one of over 100+ scenes. They can adorn the cover of Rolling Stone, Time Magazine, become a beauty queen, fictional hero, be in sports scenes, stand alongside or "meet" celebrities, sports, and movie stars.

Big Entertainment's professional and friendly directors help your guests with the proper pose and expression to fit their chosen fantasy. Onlookers are also involved with the fun as they watch there friends hilariously transformation before their eyes on our full-color viewing monitors.


- Includes free custom artwork specific to the theme of your event.
- Finished pieces can be presented in custom labeled holders, frames, t-shirts, mouse pads, hand bags, boxer shorts, and more. Inquire within.
- A huge array of available photo scenes to be superimposed into. If we don't have what you like custom templates can be created for your event.



---
Copyright 2007
BIG Entertainment Events, USA
---